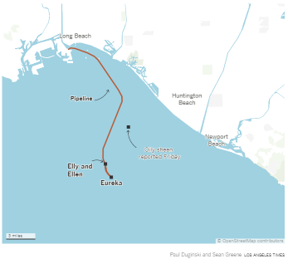 MSC DANIT INVESTIGATED FOR HUNTINGTON Beach OIL SPILL
Oct 2021: Following a significant oil leak in Orange County, California in early October, The US Coast Guard and National Transportation Safety Board determined the MSC Danit was involved in an anchor-drag incident in January.
The anchor drag occurred close to a subsea pipeline that was confirmed to be the source of the leak on October 2.
The LA Times reported that at least 126,000 gallons of crude oil created a slick spanning 8,320 acres.
Fleetmon reported:
The theory believed by the investigators is that the underwater pipeline was hooked by an anchor of a large vessel and then the 4000-foot section of the pipe was dragged over a distance of 100 feet, ultimately breaking off the concrete outer casing of the line. Convinced with the proposed theory, Captain Jason Neubauer said that ROV inspection has suggested that the anchor strike must have occurred months ago or even a year in the past. His investigation team has focused on an unusual storm that had hit the area on January 24-25 this year which led to a lot of vessel management activity at the Marine Exchange VTS of San Pedro Bay.