Vesper Marine Puts Fence Around America's Cup Racecourse
PAuckland, New Zealand – Vesper Marine, a leading manufacturer of innovative marine safety products, announced today that Vesper Marine's Guardian AIS system has been implemented by the America's Cup Event Authority providing critical safety information at the Louis Vuitton challenger series and the 35th America's Cup (AC) Finals held in Bermuda. A truly innovative technology, the Vesper Marine Guardian AIS system is being used to establish a Virtual Aid to Navigation perimeter that clearly outlines the racecourse for the Americas Cup event. Broadcast using the international standardized marine Automatic Identification System (AIS), changes to the course are made in real time ensuring the ultimate in safety for spectators and other local marine traffic. Vesper Marine's America's Cup technology was first used at the 2013 event.
"We are proud to be part of this iconic event with such a rich history," said Jeff Robbins, CEO, Vesper Marine. "Our easy to use system gives the race organizers a great deal of flexibility and powerful functionality. The Vesper Marine Guardian solution makes spectating and officiating the America's Cup races a whole lot safer."
Complementing a private system used by AC organizers to manage the race and notify race boats of approaching boundaries, Vesper Marine's technology has been implemented to address safety concerns for the large number of on-the-water spectators. Authorized race officials will collect real time information from race marshals, calculate condition-dependent course boundaries and, using Vesper Marine's application programming interface, send information to the Guardian system automatically. Establishing a virtual fence around the course, the Guardian system broadcasts this information to the public using AIS frequencies – painting the course on nearby vessels' dedicated AIS displays and navigation systems to clearly outline boundaries and other critical safety information. As a result, spectator and official vessels can quickly and easily see their own positions relative to the course boundaries on their navigation displays to ensure they are safely outside the course at all times.
Guardian from Vesper Marine is a 24/7 protection system that gives vessels visibility of marine assets or protected zones via their electronic navigation system, monitors vessel positions, evaluates their behavior to determine if they present a risk to marine assets or protected zones and proactively sends both the vessel and the user an alert if an incident might occur.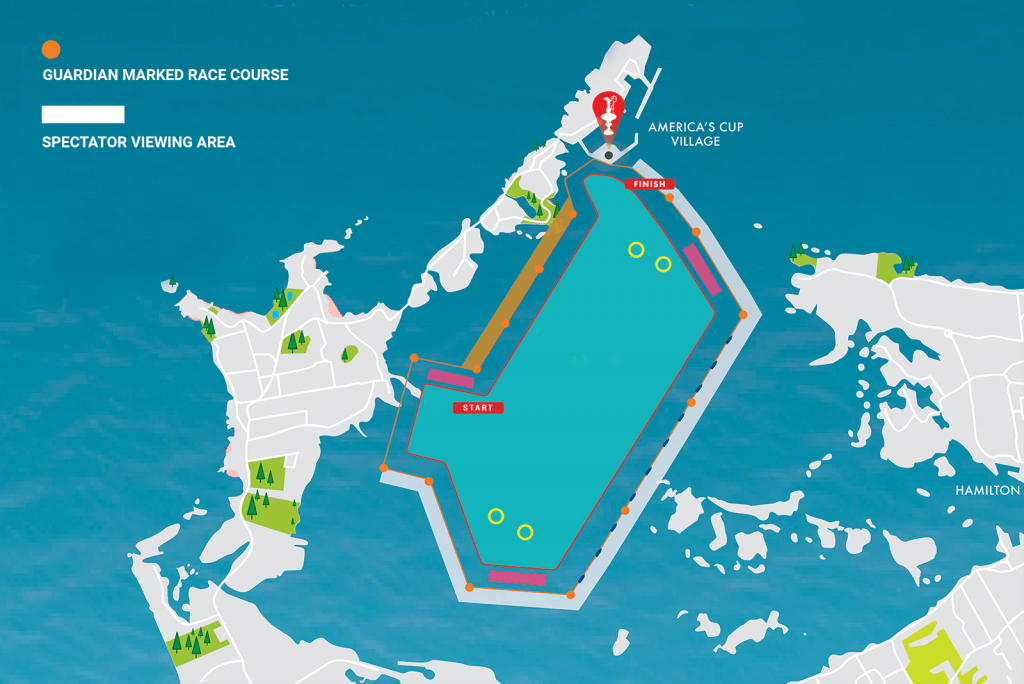 The Guardian system is comprised of two primary services: Guardian:Mark and Guardian:Protect. The America's Cup uses Guardian:Mark, including an upgrade to the latest Vesper Marine Virtual AIS station which provides enhanced network coverage and higher transmission power.